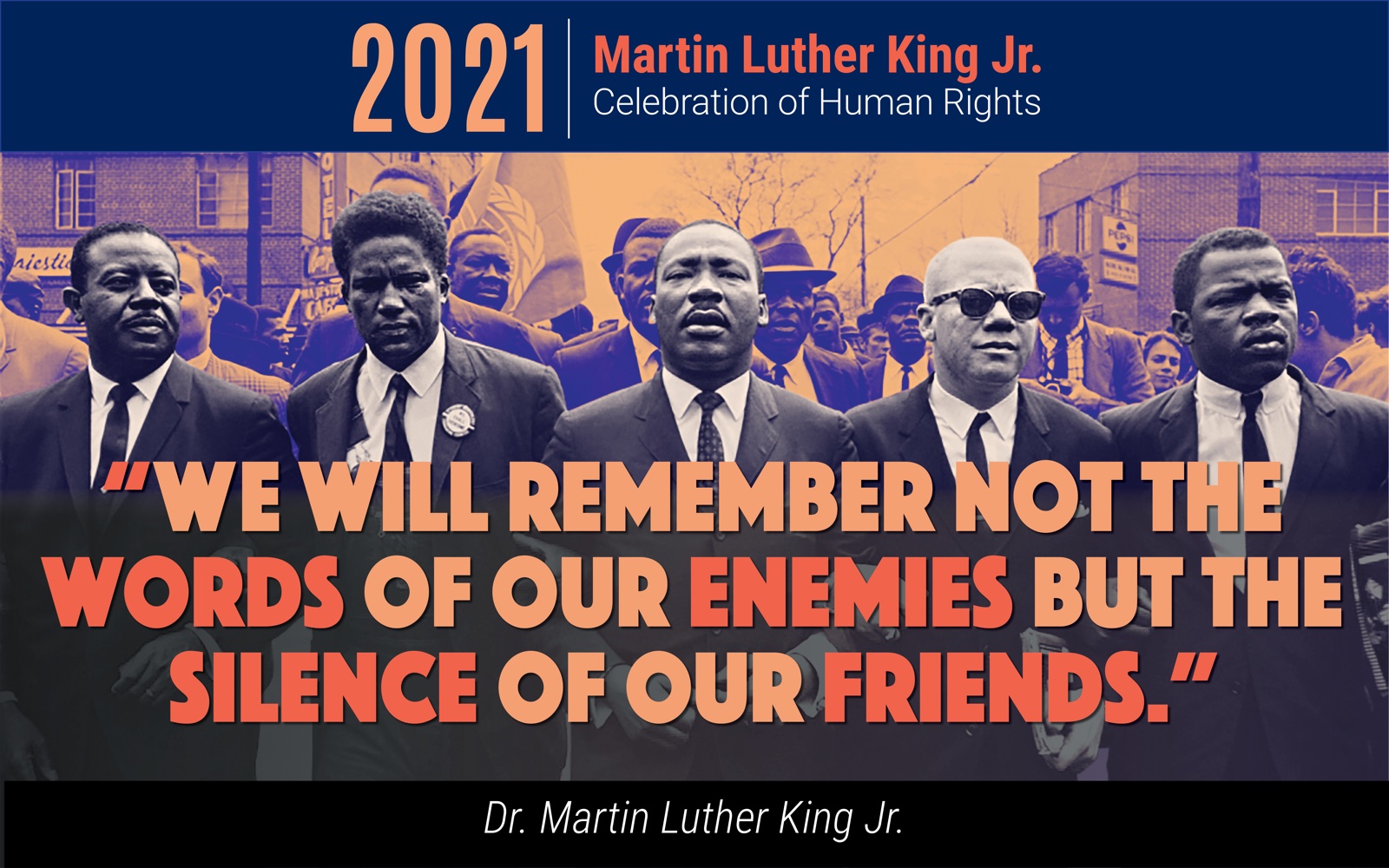 Virtual Celebration

Recorded Livestream:

Join us online to hear from local leaders and enjoy music, art, and dance performances to honor Dr. King, Jr.'s life and legacy. The main program will be followed by a virtual resource fair.
Celebration of Human Rights
Recognition of Dr. Martin Luther King, Jr.'s birthdate has been a tradition at the University of Iowa since 1969, and the national holiday has been observed through human rights programs since its inception in 1986. In 1990 the University initiated the Human Rights convocation program. Afternoon classes were canceled to encourage student, faculty, and staff participation in programs that encourage dialogue about diversity and reinforce the principle that the University is a forum for the free exchange of ideas. The convocation has been an opportunity for serious thinking by all of us about issues of social justice, human rights, and world peace.
An official University holiday was designated in 1995 to provide an opportunity to engage the University community in a discussion of the human values that the King holiday epitomizes. These initial events have grown into a campus-wide celebration that engages faculty, staff, students and community members to give lectures, discussions, and cultural arts presentations. All events are free and open to the public.
The 2021 Martin Luther King Jr. Celebration of Human Rights is a collaborative effort between the University of Iowa, city of Iowa City and several community organizations. In an attempt to connect in this unprecedented year, we are working together to create a robust set of digital programming for the university and the community. It is the planning committee's hope that you will find some way to engage with the Martin Luther King Jr. Celebration of Human Rights.
---
If you would like more information, please contact Shalisa Gladney at shalisa-gladney@uiowa.edu.
We also welcome you to like the Johnson County Day of Celebration Facebook page.
MLK Celebration of Human Rights Kick-Off
Dr. MLK Jr Day of Service Virtual Celebration at 10:00 a.m. on Facebook, YouTube, and Instagram. Bell Ringing Ceremony, guest speakers, performances and resource fair
Unity March (Car Parade) 12:00 - 1:00 p.m.
Community Lunch 12:30 p.m. - 2:00 p.m.
Dr. MLK Online Program With Corridor Guests 7:00 - 8:00 p.m.
---
Community-Based Service Projects
Date: Donations are accepted Monday January 25 through Saturday January 30 at noon at any drop-off location.
Each year during the MLK Jr. Human Rights Week Celebration, we come together through service projects to serve our community in meaningful and tangible ways, alongside local non-profits. This year, the service opportunities will consist of five parts. Community members can assemble a literacy kit, donate to a week-long food and basic needs drive, create an emergency care kit, donate at the Hy-Vee donation drive event, or initiate youth-centered acts of service.
---
Project 1: Literacy Kits
Literacy Kits are simple crafts that you can assemble at-home independently or with your household, and they contain a children's book and an activity related to the book to make reading fun for early elementary-aged children.
Update: The Iowa House Hotel front desk in the Iowa Memorial Union (IMU) began handing out literacy kits starting 1/20, and they are now out of kits.  Please pick up from another location starting Monday, January 25. See "Drop-off locations and literacy kits" below on the page below:
Learn more about the literacy kits
---
Project 2: Week-Long Food and Basic Needs Drive
Throughout the week of celebration, donations will be accepted to benefit local food pantries.
View needed item lists & drop-off locations
---
Project 3: Emergency Care Kits
Emergency care kits contain basic items that an individual who is escaping a violent environment will need. You and/or your household can donate a fully or partially assembled kit of some basic necessities that will be donated to the Domestic Violence Intervention Program (DVIP) and Rape Victim Advocacy Program (RVAP) of Iowa City.
View needed materials and drop-off locations
---
Project 4: Hy-Vee Drive Event
On Wednesday, January 27, from 4:00pm-7:00pm, Iowa City Hy-Vees are teaming up to serve the Food Pantry at Iowa and CommUnity Crisis Services. A list of needed items will be provided to shoppers upon arrival, and donations may be given on-site during this time at each of the First Ave, North Dodge, and Waterfront Hy-vee locations.
---
Project 5: Youth Acts of Service
We encourage youth and the community at large to commit acts of service and/or learning in honor of Dr. King. Even when we can't gather together, we can still serve our community together, separately. Check out the following list for some tangible ideas to serve your neighborhood and community - or create your own! If you choose to use your MLK Day to serve your community, please share your photos with us using the hashtags #MLK2021 and #ServingTogetherSeparately.